Napier – what a magnificent part of this fine country and a perfect place to hold an offshore powerboat race.
Dave and his team at NZHL Hawkes Bay had done a fantastic job promoting the race with a competition through their Facebook page. This not only gave NZHL Hawkes Bay a good increase of new page followers, but also resulted in 3 lucky completion winners going for a ride in our mighty Super boat 400 - NZHL #16.
With flat calm conditions these lucky people were treated to a nice fast ride and we were rewarded with huge smiles from everyone who participated.
Race day rolled around and not surprisingly, the sea was once again flat.
This seasons seas conditions have been extremely unusual, but has been a good learning platform for our team.
We know from last season we have a good boat in medium to rough conditions, now we are lined up against a very fast competitor in flat water and it is helping us develop our boat for these conditions as well.
Last race in Doubtless Bay proved we only had to achieve a minimal amount of lift to match Hi Jinx in the flat conditions, so we had some Tunnel Gates custom made and fitted these in time for Napier.
What are tunnel gates ?? I could put a boring explanation or we could change the question to - Did they work ? Yes they did !
Off the start NZHL #16 got a jump on Hi Jinx and managed to hold them off into the first corner, the battle was well and truly on with both boats appearing to have equal pace and both teams enjoying the close racing we designed this class for, with NZHL #16 holding out Hi Jinx on the second lap until our port engine decided to stop – no warning, no alarms it just stopped!!!
With NZHL #16 now stopped in the water, Hi Jinx was able to get past and quickly build a nice lead. We can't publish the conversation which eventuated in the cockpit due to certain words which were used, but we can say Chris and Karl had NZHL up and running again very quickly and back in the hunt.
The lead Hi Jinx had built was far too great for our boys to claw back and the gremlin which caused the issue in the first place decided to rear its ugly head another 7 times, although Chris and Karl were a little more prepared each time.
The end result was we finished in 2nd place - 1 minute behind Hi Jinx Racing and we have managed to close the top speed gap between us in flat conditions.
Unfortunately as our boys were chasing Hi Jinx around the course, another team thought it would be a great idea to disrupt our intention to actually race, and decided it would be a great idea to play silly games by attempting to cut across our path while our boat was clocking around 150kph – we don't feel special as this team didn't single us out, they actually did the same thing to a few teams and are currently the subject of a review. The go pro footage is quite spectacular, but I am unable to share while the review is in progress, should make great TV though.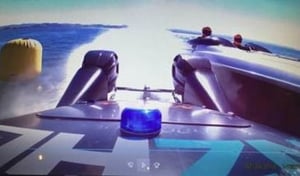 On a lighter note, Max and Shara Carson looked fantastic out on the race course in their borrowed Sonic Race boat NZ Home Loans D&H Steel, I was surprised the new D&H Steel branding stayed on the boat for the entire race, especially when I personally stuck it back down after Chris and Max had peeled some of it off in testing just before the race.
2 weeks after destroying their race boat and breaking his nose in a crash at Doubtless Bay, Max was not only back out on the race course in Napier, but he was giving it everything in an unfamiliar boat battling hard with CRD Automotive.
Max and Shara were in 3rd spot for the entire 1 hour race until the last lap when CRD Automotive somehow managed to get past and relegate D&H Steel back to 4th place.
The great news is the winner of their class Konica Minolta was only a day entry, which means Max and Shara still achieved a 3rd in class for their championship, and that means they only need a 3rd and a 2nd in the 2 race format in Whitianga to secure the Sports 200 Championship – We know they can do it and we wish them well.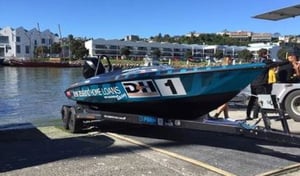 As we move onto the last round in Whitianga (13th May) we are excited to welcome a new crew into our spare boat Refurbgroup
Paul Fowlds (AUS) Throttle man - Kwozzy Racing (AUS Super boat 600)
Fowldsy is actually a Kiwi originating from Christchurch – hence Kwozzy Racing – and is an exceptional throttle man with a huge amount of experience.
Our very own Chris Haeger drove with Fowldsy in Lake Macquarie last year for Kwozzy Racing, and Fowldsy was on the throttles of Hogs Breath back in the earlier days – Hogs Breath is now NZHL #16
Paul Ludeman (NZ) Driver - Irate (NZ Sports 200)
Paul is currently racing his own Sonic Race boat in the Sports 200 class
A newcomer to Super boats, Paul is looking forward to the challenge of driving one of our Super boat 400's especially having Fowldsy next to him on the throttles
Keep an eye on these two boys as Refurbgroup has not shown her full potential yet and these boys are not going all the way to Whitianga to make up the numbers – they are there to RACE
Whitianga 13th May – Last Round of the 2017 NZ Offshore Season – Put the date in your diary and get down there for the party of the season
And please support those who support us:
NZHL – NZHL Takapuna – Liberty Finance – Nippys – Brand Studio – Boatfix – Mikes Marine – Velvet