We're pleased to be supporting the Big Hoot Auckland 2018 to raise funds and awareness for the Child Cancer Foundation. The Child Cancer Foundation stands shoulder-to-shoulder with every family who has a child facing cancer, providing emotional, social and practical support to the family. We've been supporting CCF do their amazing work for over 4 years now so when the opportunity to support them via the Big Hoot came along, we swooped in to be part of this owlsome project.
The Hair Big Hoot features 47 giant owl sculptures uniquely decorated by Kiwi artists that have roosted all around Auckland, joined by 60 fantastic owlets, many created by local school students.
A big part of what we do at NZHL is support our clients to realise their financial dreams, whether this be being debt free faster, buying their first home or having a family holiday. So it seemed appropriate that we chose 'Dream Catcher' as our owl (or Mr Dream Catcher as he's also known).
If you've been following us on Facebook or Instagram you may have seen this cheeky wee fellow, Hoo-dini, who has been having adventures up and down New Zealand. Here he is with Mr Dream Catcher at the Big Hoot launch.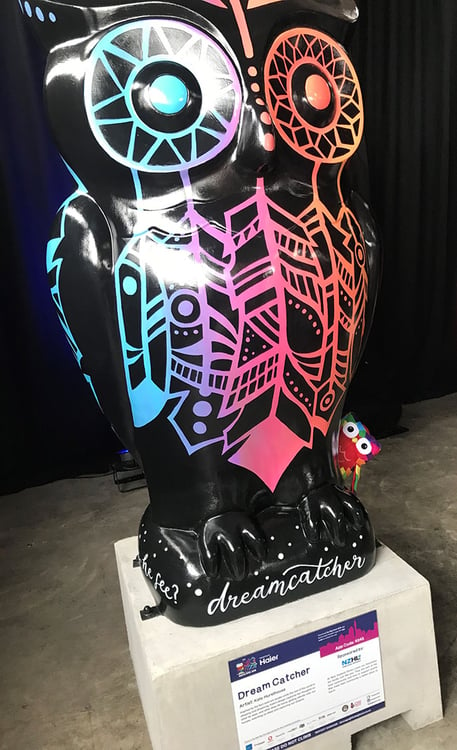 Dream Catcher was painted by the talented Auckland based artist and calligrapher Kate Hursthouse.
"The idea for Dream Catcher came about because owls are nocturnal and they are often awake and flying above us while we're sleeping. So it was that whole idea around him catching your dreams as you're sleeping. So as we sleep our dreams are floating out of us and the owls are flying above us and catching them."
[embed]https://youtu.be/hP4RSYrDjdE[/embed]
If you're in Auckland check out the Big Hoot Art Trail and if you're not in Auckland but would still like to support the Child Cancer Foundation you can donate here